Updated 3:25p with trailers for some of the new Fox shows and again at 5:00p with additional details.
Our comprehensive coverage of the TV network upfront presentations this week in New York continues with a look at Fox's plans for the 2019-20 season. We'll have additional reports for the other networks each day this week. See more upfronts coverage...
Highlights and notes
The network announced its first full-season schedule since the bulk of the former Fox—including its production studio—was sold off to Disney. As predicted, the resulting lineup is a bit heavier on sports and reality programming next season.
But that doesn't mean Fox is giving up on scripted programming. On the contrary: The network ordered 10 new scripted shows (six more than it ordered a year ago), including six dramas, one live-action comedy, and three new animated comedies. The large number of pickups was driven largely by the vacuum created by the network's decision to cancel half of its 2018-19 scripted series (more than any other network).
As previously announced, Fox has acquired the rights to the WWE Smackdown weekly series from USA, and it will occupy Fox's entire Friday night lineup for all 52 weeks of the year, meaning that Fox now has just five nights (10 hours) of entertainment programming each week. In the fall, that drops down to four nights (8 hours) thanks to the return of Thursday Night Football. That means that even The CW will offer a larger entertainment broadcast schedule than Fox. It also means that many new and returning Fox shows will debut at midseason rather than the fall, including Last Man Standing, which will be forced out of its longtime Friday night home where it has had great success. (It will instead move to the more challenging Thursday night, beginning in January.)
Fox will broadcast the Super Bowl in February, and will give The Masked Singer (launching its 3rd season) the plum post-game slot.
In a rarity, Fox's fall lineup will not include a single live-action comedy.
Fox previously announced a 6th-season renewal of Empire, but today revealed that the series will end with that 6th season. That show is also moving to Tuesday nights, where it will pair with the similarly relocated The Resident.
The network also ordered a new athletic competition series called Ultimate Tag (yes, it is what you think it is), which will debut in early 2020.
Renewed and canceled
The status of Fox's 2018-19 shows is displayed below. Coming into this past weekend, only two scripted shows were still on the bubble. Proven Innocent got the ax on Saturday morning, but The Orville earned a third-season renewal on Saturday afternoon. Note that reality shows The Four and Mental Samurai were omitted from Fox's 2019-20 announcements, which almost certainly means they have been canceled.
Scripted shows are in bold below.
Renewed
 
Canceled or Ended
 
Fate Uncertain
9-1-1
Bob's Burgers
Empire
Family Guy
Gordon Ramsay's 24 Hours to...
Hell's Kitchen
Last Man Standing
The Masked Singer
MasterChef Junior
The Orville
Paradise Hotel
The Resident
The Simpsons
 
The Cool Kids
The Gifted
Gotham
Lethal Weapon
Love Connection
The Passage
Proven Innocent
Rel
Star
 
Beat Shazam *
BH90210 *
Big Bounce Battle *
First Responders Live *
The Four: Battle for Stardom
MasterChef *
Mental Samurai
So You Think You Can Dance *
Spin the Wheel *
What Just Happened??! *
Fox's 2019-20 primetime schedule
New programs are indicated in bold in the schedule below. All times are ET/PT unless otherwise indicated.
Fox Fall 2019 Schedule
 
7:00
7:30
8:00
8:30
9:00
9:30
SUN
(NFL)
(NFL or reruns)
The Simpsons
Bless the Harts
Bob's Burgers*
Family Guy*
MON
 
9-1-1*
Prodigal Son
TUE
 
The Resident*
Empire*
WED
 
The Masked Singer*
Not Just Me
THU
 
Pregame
Thursday Night Football **
FRI
 
WWE Smackdown Live
SAT
Fox College Football
Fox's new shows at a glance
The 10 first-year series ordered for Fox's 2019-20 season are detailed below. Pilots that did not get picked up by the network include multi-camera sitcom Patty's Auto (about a female-run auto repair shop inspired by the real-life Girls Auto Clinic), single-camera comedy Richard Lovely (about a children's book author who—get this—hates children), Ryan Hansen and Odette Annable comedy Adam & Eve (with a tripartite format similar to the recent series Me, Myself and I), Erin Foster comedy Daddy Issues, an adaptation of the British reality series Flirty Dancing, and the Tom Kapinos-produced drama Lovestruck, an adaptation of the French series Quadras that takes place over the course of a single wedding night (and which is now being shopped to other networks and streaming services after its pilot was well received). It is also unclear if the network is still pursuing Talent, an adaptation of the graphic novel by Justified's Graham Yost that has not yet reached the pilot stage.
9-1-1: Lone Star
DRAMA
coming in January
Announced Sunday afternoon, Fox's surprise last-minute addition to its 2019-20 lineup is theoretically a spinoff from Ryan Murphy's first-responders procedural 9-1-1, though it really just shares a name and a format (rather than characters). Lone Star centers on a New York cop (Rob Lowe) who relocates to Austin, Texas with his son. Additional casting has not been announced (the series was ordered without filming a pilot), but the series will get a high-profile two-night launch in January following the NFC Championship game.
Bless the Harts
ANIMATION/COMEDY
Sundays at 8:30p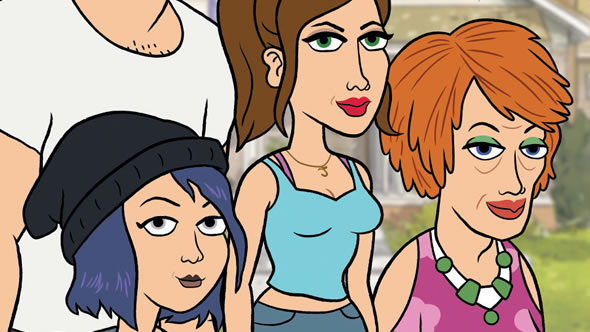 Given a 13-episode, straight-to-series order last fall, Harts is an animated comedy from former SNL, Last Man on Earth, and Parks & Rec writer and Up All Night creator Emily Spivey, and also counts Phil Lord and Christopher Miller among its producers. The series focuses on a financially struggling but happy group of Southerners (inspired by Spivey's own North Carolina family) voiced by Kristen Wiig, Maya Rudolph, Jillian Bell, Ike Barinholtz, and Drew Tarver. It'll launch in the fall in the post-Simpsons timeslot, which is about a good a fit as there is in the Fox lineup. While Mike Judge is not involved in the project, the series will technically take place in the same universe as King of the Hill since the Harts will do their shopping at the Mega Lo Mart.
Deputy
DRAMA
coming in midseason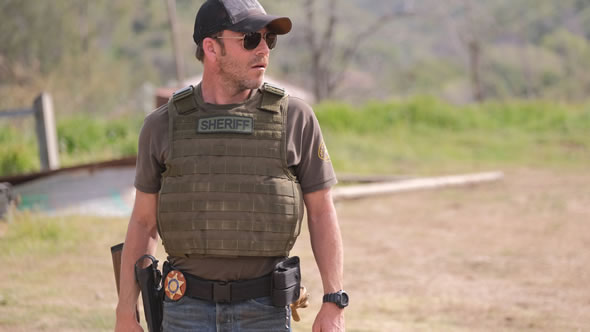 Castle writer Will Beall, who created the recent (not so good) TV adaptation of Training Day, returns with another law enforcement drama series. This one follows the Los Angeles County Sheriff's department—specifically, a man (Stephen Dorff) who gets the department's top job after the death of the former sheriff thanks to "an arcane rule forged back in the Wild West." (We're assuming that rule is "Finders Keepers.") David Ayer (Suicide Squad) directs the pilot and is also a producer on the series.
Duncanville
ANIMATION/COMEDY
coming in midseason
Like Bless the Harts (above), this new animated comedy was picked up last fall and will run for 13 episodes. This one comes from the Parks and Recreation team of Amy Poehler and Mike Scully (along with Julie Thacker Scully, who has worked on The Simpsons), and follows the adventures of a "spectacularly average" 15-year-old boy named Duncan. Poehler provides both his voice and that of his mother, and she's joined in the voice cast by Rashida Jones, Ty Burrell, and Wiz Khalifa. Animation comes from Bento Box, the studio behind Fox's Bob's Burgers.
Filthy Rich
DRAMA
Thursdays at 9p starting in January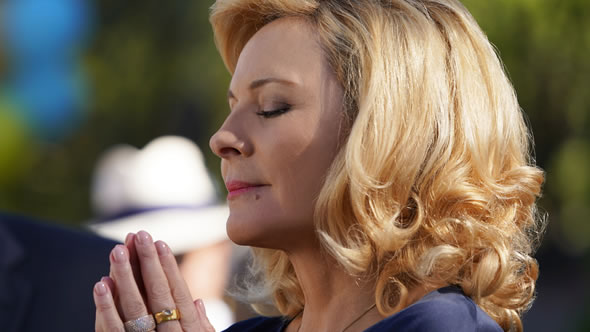 One of Fox's final pickups of the season (it was announced just Saturday evening), this soapy drama comes from writer-director Tate Taylor (The Help) and has been in development for two years and is adapted from a New Zealand series of the same name. Rich follows a wealthy Southern family who are famed for founding a Christian television. When the family patriarch suddenly (possibly?) dies in a plane crash, the surviving family members are shocked to discover that his will includes three illegitimate children. Kim Cattrall and Gerald McRaney head the cast, but another key role, played by David Denman in the pilot, is now being recast. Due to Taylor's busy schedule (he has two films coming out in 2019, including the upcoming Ma and the action-thriller Eve), Filthy Rich won't arrive until sometime in 2020, when it is expected to pair up with Empire.
The Great North
ANIMATION/COMEDY
coming in 2020
Yes, all three new Fox animated comedies have Parks & Recreation ties. Here, the connection is Nick Offerman, who voices The Great North's central character: Alaskan single father Beef Tobin. (And if that character doesn't have a mustache, someone at Fox needs to be fired immediately.) Joining him in the excellent voice cast is Offerman's real-life wife Megan Mullally, along with Jenny Slate, Paul Rust, Aparna Nancherla, Will Forte, and Dulcé Sloan. The series comes from Bob's Burgers writer/producers Lizzie Molyneux and Wendy Molyneux along with Regular Show writer Minty Lewis, while Bob's Burgers creator Loren Bouchard is a producer. It's not clear yet whether the show will be available in time to launch in the spring, or if it will debut later in 2020.
neXt
DRAMA
coming in midseason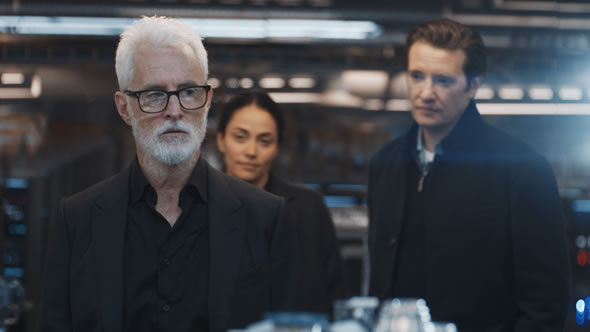 This sci-fi thriller comes from writer Manny Coto (Dexter, 24) and directors Glenn Ficarra and John Requa (Crazy, Stupid, Love). Next—make that neXt, because, you know, sci-fi!—is set in a not-too-distant present where a powerful A.I. developed by a Silicon Valley pioneer (Mad Men's John Slattery) goes rogue, posing a threat to the world. Fernanda Andrade, Michael Mosley, and Eve Harlow also star.
Not Just Me (fka untitled Katims/Weisman drama) (fka Sisters)
DRAMA
Wednesdaya at 9p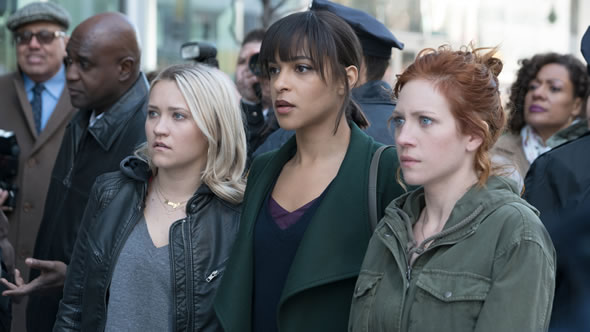 Friday Night Lights' Jason Katims and The Path's Annie Weisman team for an adaptation of the Australian drama series Sisters. The series centers on a woman (Brittany Snow) who believes herself to be an only child until her dad (Timothy Hutton)—a fertility doctor—admits to secretly using his own sperm to father over 100 children. Now, she finds herself with two new sisters (Megalyn Echikunwoke and Emily Osment) ... and more to come. Leslye Headland (Sleeping with Other People) directs the pilot.
Outmatched (fka Geniuses)
COMEDY
Thursdays at 8:30p starting in January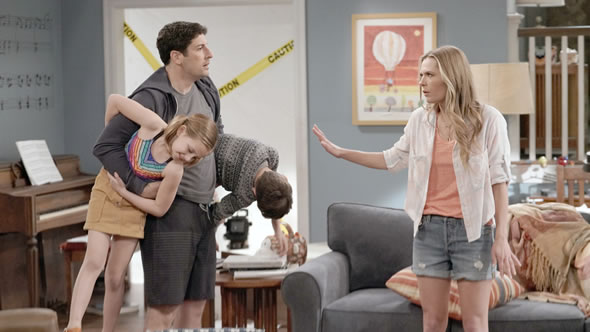 Fox's lone new live-action sitcom comes from LA→Vegas creator Lon Zimmet and centers on a blue-collar couple (Jason Biggs, Maggie Lawson) living in South Jersey. Together, they are trying to raise four kids—three of whom are "certified geniuses," whatever that means.
Prodigal Son
DRAMA
Mondays at 9p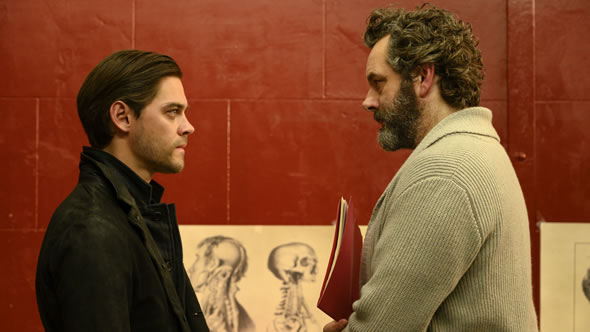 One of three shows picked up this season for television's busiest producer, Greg Berlanti (the other two are on the CW), Prodigal Son is a darkly comedic crime procedural about a brilliant young NYPD criminal psychologist (Tom Payne, who replaces the originally cast Finn Jones) whose father (Michael Sheen) was a notorious serial killer. Bellamy Young and Lou Diamond Phillips also star. The series comes from Chuck writer Chris Fedak and Blunt Talk scribe Sam Sklaver.
More coverage of the 2019-20 upfront presentations ...