| Rage 2 | Observation | Layers of Fear 2 |
| --- | --- | --- |
| | | |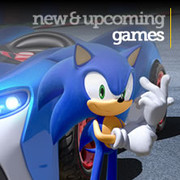 Find release dates, trailers, and scores for major upcoming and recent videogame releases for all platforms, updated weekly.
1.

Devil May Cry 5

Release Date:

March 7, 2019

The story is set several years after Devil May Cry 4. Legendary DMC action returns, made all the more stylish by the power modern gaming has to offer. Behold stunning visuals built upon the technology that brought you Resident Evil 7 biohazard. High framerate graphics and flexible design give our creators what they need to offer fans the latest and greatest DMC experience.

2.

Sekiro: Shadows Die Twice

Release Date:

March 22, 2019

Your death won't come easily. Enter the world of late 1500s Sengoku Japan; a brutal, bloody period of constant life-and-death conflict. As tensions rise, a compelling new story unfolds amongst the chaos. Introducing Sekiro: Shadows Die Twice, a dark and twisted new gameplay experience developed by the renowned team at FromSoftware and published by Activision. Directed by Hidetaka Miyazaki, Sekiro: Shadows Die Twice is a third-person, action-adventure game with RPG elements. The single-player game puts players in the protagonist role of a hard-hearted warrior whose mission is to rescue his master, a young lord, and exact revenge on his arch nemesis. As "Sekiro," or the "one-armed wolf," players discover the many ways to strategically approach combat and engage enemies. [Activision]

3.

Baba Is You

Release Date:

March 13, 2019

Baba Is You is a puzzle game where the rules you have to follow are present as blocks you can interact with. By manipulating them, you can change how the game works, repurpose things you find in the levels and cause surprising interactions.

4.

Irony Curtain: From Matryoshka with Love

Release Date:

May 16, 2019

Irony Curtain: From Matryoshka with Love is a satirical point and click inspired by the classic adventure games. It smuggles you out of your comfort zone and throws you into the middle of a Cold War spy intrigue - where there's an even bigger game being played...

5.

Hell is Other Demons

Release Date:

May 20, 2019

Hell is Other Demons is a juicy arcade shooter with bold color schemes and a heavy synthwave soundtrack.

6.

DiRT Rally 2.0

Release Date:

February 26, 2019

DiRT Rally 2.0 dares you to carve your way through a selection of iconic rally locations from across the globe, in the most powerful off-road vehicles ever made, knowing that the smallest mistake could end your stage. You will need to rely on your instincts with the most immersive and truly focused off-road experience yet, including a new authentic handling model, tyre choice and surface deformation. Power your rally car through real-life off-road environments in New Zealand, Argentina, Spain, Poland, Australia and the USA, with only your co-driver and instincts to guide you. Race on eight official circuits from the FIA World Rallycross championship, complete with licensed Supercars and support series. Develop your team and cars around race strategies, and progress through a varied selection of Events and Championships in both a single player Career Campaign and a competitive online environment.

7.

Total War: Three Kingdoms

Release Date:

May 23, 2019

Total War: THREE KINGDOMS is the first in the award-winning series to recreate epic conflict across ancient China. Combining a gripping turn-based campaign of empire-building & conquest with stunning real-time battles, THREE KINGDOMS redefines the series in an age of heroes & legends.

8.

Tom Clancy's The Division 2

Release Date:

March 15, 2019

Set in Washington D.C., the game takes place 7 months after a deadly virus was released in New York City and the nation has become a shell of its former self. While the virus has been contained, its effects are most evident in the devastated streets of the nation's capital where survivors cling to hope and struggle to rebuild. Enter The Division, a unit of civilian sleeper agents who now must work to stop enemy factions from completely taking over the city – and ultimately, the nation. As a universally-regarded seat of power, if D.C. falls, the nation falls. With civilians helpless and fearing for their lives, players will be the last line of defense in preventing the total collapse of society. [Ubisoft]

9.

Mortal Kombat 11

Release Date:

April 23, 2019

Mortal Kombat is back and better than ever in the next evolution of the iconic franchise. The all new Custom Character Variations give you unprecedented control to customize the fighters and make them your own. The new graphics engine showcasing every skull-shattering, eye-popping moment, brings you so close to the fight you can feel it. And featuring a roster of new and returning Klassic Fighters, Mortal Kombat's best in class cinematic story mode continues the epic saga over 25 years in the making.

10.

Trials Rising

Release Date:

February 26, 2019

Explore challenging tracks around the world, from Yellowstone Park to the peaks of Mt. Everest and everywhere in between. New Tandem Bike mode allows two riders to control one bike. Hone your racing skills and level up from local backyard competitions to stadium races. Make a statement with customizable outfits and bike skins.