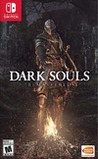 Summary:

Re-experience the critically acclaimed, genre-defining game that started it all. Beautifully remastered, return to Lordran in stunning detail. DARK SOULS: REMASTERED includes the main game plus the Artorias of the Abyss DLC.
Developer:

From Software

Genre(s):

Role-Playing

,

Action RPG

# of players:

Up to 6

Cheats:

On GameFAQs

Rating:

M
Please enter your birth date to watch this video:
You are not allowed to view this material at this time.
Dark Souls Remastered - PS4 Pro Gameplay
If you're someone who finds reward in developing deep mechanical understanding in games and is willing to die, a lot, in a bleak and uncaring world in pursuit of this understanding, Dark Souls Remastered could be a new favourite.

Dark Souls on Switch was another chance for me to fall in love with the world of Lordran once more. It's an experience that's a perfect fit on a handheld, and it's one of the most compelling apps Nintendo's burgeoning platform currently has to offer.

Dark Souls: Remastered is the improved version of one of the most influential and unforgettable games ever made. It delivers a mysterious and expansive world to be explored, which will reward with many wonders those who brave enough to face its dangers.

While Dark Souls Remastered on Switch possesses some odd quirks and isn't as technically impressive as its current-gen counterparts, it still retains the heart of what the original game is all about.

A well aged fantasy/horror action RPG, that even those who have never played before should definitely give a chance. Don't be scared off by the stories of how difficult it is. (Though also know, those stories are true.)

Seven years out from its first release, people already know what Dark Souls is all about and probably know whether that type of brutal gameplay is for them. Love it or hate it, it is what it is. The Switch version doesn't change that experience. It does run extremely well on the system, and it looks pretty darn good. The failure to adhere to Nintendo button conventions isn't exactly exclusive to Dark Souls: Remastered either, but it doesn't make it any less of an annoyance. Other than that, there isn't much else going wrong.

A hasty and superficial porting.
Although i'm not that far in (only having just met andre the blacksmith I haven't experienced any framerate issues or anything else that

Although i'm not that far in (only having just met andre the blacksmith I haven't experienced any framerate issues or anything else that detracted from the experience.
It's not the most beautiful version of the game but you shouldn't expect that. If you buy it on switch you want it so you can play this amazing game everywhere you go. That's all I wanted and that's what I got. Don't pass up on the chance to try out or revisit this insanely wonderful and horribly addictive game... like seriously.,.. once you get into it your life will be put on hold until you finish... Enjoy!!

…

Expand

One of my favourite games and series'of all time. The switch really made this game feel a lot more. intimate and personal through it's

One of my favourite games and series'of all time. The switch really made this game feel a lot more. intimate and personal through it's handheld capabilities. The game ran smoothly most of the time, and framerate drops were hardly noticable. A very underrated way to play the game. Not as graphically capable as the ps4, but looks good nonetheless.

…

Expand

this is hands down one of my favorite games ever, and now i can play it on the go with better performance than the original! if your a souls

this is hands down one of my favorite games ever, and now i can play it on the go with better performance than the original! if your a souls fan and own an switch, this is a must have. this is one of those games that sucks you into its world and haunts you for days after playing. from the world building to the unforgiving but fair game play, Dark Souls is what gaming is all about.

…

Expand

I love play on Nintendo Switch in portable mode. And this game great work in this mode. Thank you Virtuos for this port!

This game, despite its game-play quirks, is very addicting for a 3D adventure/horror game. If you like that genre of game and like the visuals

This game, despite its game-play quirks, is very addicting for a 3D adventure/horror game. If you like that genre of game and like the visuals here, then I would certainly pick up the remastering of Dark Souls.

…

Expand

Gran videojuego de la época de PS3 y 360 llevado con remasterizaciones leves a Switch con la ventaja de ser portatil. No he terminado el juego

Gran videojuego de la época de PS3 y 360 llevado con remasterizaciones leves a Switch con la ventaja de ser portatil. No he terminado el juego y no me ha gustado demasiado pero hay que reconocer la calidad que este tiene tanto en ambientación como en jugabilidad. Recomendado para los amantes de la saga.

…

Expand

Can I review a boss? Cause if so, **** ceaseless discharge, I can't get the intended way of killing him at sl1, it's so **** dumb. Get the

Can I review a boss? Cause if so, **** ceaseless discharge, I can't get the intended way of killing him at sl1, it's so **** dumb. Get the game though it's a 10/10. But ceaseless discharge at SL1 can go kill himself (this is a review for a boss, cause I'm stupid and need to vent)

…

Expand