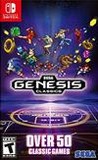 Summary:

SEGA's collection of Mega Drive & Genesis classics comes to a new generation of consoles - and players. Over 50 titles across all genres from all-time classics like Sonic and Streets of Rage 2 to deep RPGs like the Phantasy Star series; arcade action, shooters, beat 'em ups, puzzlers, old

SEGA's collection of Mega Drive & Genesis classics comes to a new generation of consoles - and players. Over 50 titles across all genres from all-time classics like Sonic and Streets of Rage 2 to deep RPGs like the Phantasy Star series; arcade action, shooters, beat 'em ups, puzzlers, old favourites and hidden gems. New features bring modern convenience to the classics. Save your game at any time, rewind those slip-ups, or customise your controls. Earn bragging rights with online multiplayer and achievements. The largest collection of retro classics on console in one great package.

…

Expand
Developer:

Various

Genre(s):

Miscellaneous

,

Compilation

# of players:

2

Cheats:

On GameFAQs

Rating:

T
Please enter your birth date to watch this video:
You are not allowed to view this material at this time.
Sega Genesis Classics - Nintendo Switch Announcement Trailer
The Sega Genesis Classics is a must own on your Switch. I would recommend buying it digitally so you can have all of these games available at any time without having to swap out a cartridge. Knowing that anytime I have my Switch out of the house, I can easily pop off the Joy-Con and jump in a quick match of Virtua Fighter 2 with my friends is a game changer.

Ultimately the only complaints that I can levy against SEGA Mega Drive Classics Collection are that there is not quite enough icing on what is an admittedly very generous cake. With this compilation you'll be getting 50 games at an absolute steal – and while some of them are historical curios that won't be worth your time, most are fantastic.

SEGA's had more than one stab at creating a comprehensive collection of its best Mega Drive titles and, as a result, SEGA Mega Drive Classics does lose some of its impact due to sheer familiarity; for example, we already have an immaculately-ported version of Sonic on the Switch eShop right now. Even so, it's hard to argue with the 50-odd games that ship with this new compendium, and only a fool would contest the fact that it showcases some of the best games of the 16-bit era.

Like any compilation, SEGA Mega Drive Classics consists of games ranging in quality from classic to just plain terrible and everything in between. That being said the good definitely outweighs the bad here and while it's a shame this bundle is missing some key Mega Drive releases there's still plenty of fun to be had experimenting with its fifty plus catalogue.

Even if aspects like online multiplayer, graphic filters and general presentation have been taken care of, the absence of really interesting extras makes this project a kind of wasted opportunity.

Having spent a good amount of time across other collections on the system and even Nintendo's NES Online app, this is easily the worst collection of older games on the Switch in terms of overall feel. While it has loads of games for the asking price, I would rather spend more and buy quality releases piecemeal or buy another collection for the Switch where there is a lot more to the release than just old roms with a few extras.
Just downloaded from the eShop and i gotta say its so convenient to just boot up these games with the sideways joycons just chilling. Getting

Just downloaded from the eShop and i gotta say its so convenient to just boot up these games with the sideways joycons just chilling. Getting achievments for fun, as well as playing online. If NES classics isnt your cup of tea try the Genesis Collection

…

Expand

A Fantastic collection to have on the switch! 50 amazing Sega Genesis games to be played when and where you want! Only on Nintendo Switch! Try

A Fantastic collection to have on the switch! 50 amazing Sega Genesis games to be played when and where you want! Only on Nintendo Switch! Try playing these with a classic controller!

…

Expand

Okay, so obviouslly there isnt S3&k,
but there are still 50 fantasic classic genesis games to be played on the switch. Maybe wait for a priceOkay, so obviouslly there isnt S3&k,
but there are still 50 fantasic classic genesis games to be played on the switch. Maybe wait for a price drop if your really stingy but for 30 this is a comfortable price for the collection you get. It even has online for some games. as well as achievements

…

Expand

Love this collection. I think I've purchased every single one of these Sega collections since the PS2 era (though I never got it on the PSP,

Love this collection. I think I've purchased every single one of these Sega collections since the PS2 era (though I never got it on the PSP, which was its first portable manifestation). Yes, it's true that Wonder Boy, which was in the PS4/XOne versions, is missing here. But you know what? That isn't deal-breaking for me like, say, what PlayStation did with their PSX Classic Mini's game list changes. I love so many of the other games, that if I wanted to play Wonder Boy so bad, I'd just play it on PS4 or PC.

So I would say the following as for whether or not you should get this at $30:

- Did you grow up playing mostly on the Genesis/MegaDrive?
- Are you a fan of Sonic, Golden Axe, Shining, Decap Attack, Streets of Rage?
- Do you prefer to play the Switch in mobile mode?
- Do you have $30 but don't know where to spend it and are not a huge fan of very well-made indie Roguelike/Metroidvania titles like Cave Story, Shovel Knight, Dead Cells, Celeste, or SteamWorld Dig?

If you answered Yes to 2 of these, then you should consider the game. Extra points if one of the two was the one about using the Switch mostly in portable mode.

If you answered No to the last one, know that you could probably get two very good Metroidvania style games for the price of this collection, and you wouldn't regret it... especially if these two are something like Celeste, The Messenger, Shovel Knight, or Dead Cells.

In either case, understand that these games will FEEL like you are playing Genesis. They will not feel, for the most part, like you are playing one of these 90s inspired indie games from the last 10 years. A lot of people sadly buy these collections and then feel let down by the pacing of some of these games. That being said, games like Alien Soldier or Comix Zone have pacing comparable to a lot of Action Platformers these days.

As a side note: I don't understand what the other user is saying when he's asking for a MegaDrive collection instead of Genesis, as the Sega Genesis IS the MegaDrive (that's just the NA name versus the name in, say, Europe). It's possible he/she means the MasterSystem, which was Sega's answer to the NES. And as for the Saturn... there just aren't enough great games on that system to warrant making a smoothly running emulated collection. Just not worth the resources, especially when some of the best Saturn games weren't even exclusives or 1st party titles. Maybe Panzer Dragoon titles, but those were like, top of the top of the line on Saturn. The console just didn't get a chance to even start. As for Master System, I totally agree. There are some wonderful games on that. Truly.

…

Expand

Yay another genesis collection just what i wanted
I mean it's portable now
but sega just refuses to do any other console not mega drive orYay another genesis collection just what i wanted
I mean it's portable now
but sega just refuses to do any other console not mega drive or saturn always genesis
but the games are pretty ok

…

Expand

Bought this collection mainly for the Shining series and Phantasy Star series (against my better judgment, since I have a family now and

Bought this collection mainly for the Shining series and Phantasy Star series (against my better judgment, since I have a family now and really should not be spending my time level grinding). It's a great collection of titles. Unfortunately I agree with the review by mock1981 that the input lag is a real issue for the platformers, especially the Sonic titles, making them not very enjoyable. I have played it docked and in handheld, with similar lag. I tried playing in airplane mode (recommended on a reddit thread as a way to decrease lag) but didn't seem to help. I would not recommend this collection if you're buying it for the platformers, due to the lag/latency. It's less of an issue for the RPGs of course, so those are still fun, and pretty much how I remember them.

…

Expand

This is a joke. The control latency pretty much guarantees sluggish input, making these great games borderline unplayable. Support M2 and

This is a joke. The control latency pretty much guarantees sluggish input, making these great games borderline unplayable. Support M2 and their appreciative Sega Ages line, not this hot garbage. Sega, why do you do this to your fans?

…

Expand