Network:

HBO

Series Premiere Date:

Apr 17, 2011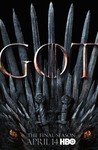 Summary:

The eighth and final season sees Daenerys Targaryen arrive at Winterfell as Jon, Sansa and Arya are together once again.

Genre(s):

Drama

,

Action & Adventure

,

Fantasy
Season 8 premiere date:

Apr 14, 2019

Episode Length:

60
Please enter your birth date to watch this video:
You are not allowed to view this material at this time.
The show has stepped up its pacing. For the most part, that has been immensely satisfying, yielding crowd-pleasing moments that the and that the series generally avoided in the often-grim journey, especially for the Stark kids, which has led to this point.

What makes this premiere work is the way it combines necessary plot milestones with sequences of straightforward indulgence. ... The Game of Thrones premiere gives me hope that this final season will be a return to what made the series work so well at the start.

The most dynamic and eventful season opener in the HBO drama's nine-year history. ... Dots were connected at a brisk pace ... but not at the expense of eloquently cut dialogue, ongoing character development, stunning scenery and an often wicked sense of humor.

More of a fan-pleaser than crowd pleaser. ... So yes — absolutely — well worth the wait.

[The season premiere] does a lot of work in a short amount of time, but unlike some previous episodes that engaged in significant table setting, it never feels too rushed or like characters are being given short shrift in the effort to hurry to the next beat. It plays as elegant, for the most part.

The pacing was too fast at some points and too slow at others, but it sets up the season for success, if writers can squeeze everything into those five remaining episodes without making them seem overstuffed (no big deal).

As in season 7, the big problem with "Winterfell"—the reason it felt more like an unlucky videographer's rendering of an exceptionally dysfunctional family reunion than like a carefully crafted story—was the pacing.
The show is its own monster after detaching from the safety of martins writing, and in some areas you could argue it has suffered slightly for

The show is its own monster after detaching from the safety of martins writing, and in some areas you could argue it has suffered slightly for it, last season had 1 or 2 weaker episodes, the writers clearly trying to move all of the key players into position ready for the end, and the first episode of this season was more or less a calm before the storm episode. Which is COMPLETELY ok. Not every episode needs to be 10/10 heart-in-your-mouth action, game of thrones has always had slower episodes, and im kind of glad they didnt rush straight into the war from the get go. Building tension has always been GoTs strong suite, we know whats coming, we usually always do with this show.

The thing that really sets GoT apart from any other show is that, 99 percent of the time, when we know something is coming, GoT delivers and then some. Think of all of those big episodes in the past, the big ones we waited eagerly for. The red wedding, hardhome, botb, winds of winter (my personal favorite epside of all time) and now, we KNOW whats coming.

And i for one am feeling very secure in the idea that GoT will deliver. It has earned that trust, by delivering so many times before.

I am READY. A good start, leads to an amazing end.

…

Expand

Thrones" is an unwieldy beast, and it's still possible that the show won't be able to stick the landing. But if the premiere is any guide,

Thrones" is an unwieldy beast, and it's still possible that the show won't be able to stick the landing. But if the premiere is any guide, like Jon and Daenerys' dizzying date, the remaining five episodes promise to be a genuinely wild ride.

…

Expand

Game of Thrones returns with a strong gust, but not a bang. Not that it's needed, however, the job of this episode was to set up events and

Game of Thrones returns with a strong gust, but not a bang. Not that it's needed, however, the job of this episode was to set up events and prime certain characters for new and continued interactions in episodes to come. In this regard, it performed well. The script by Dave Hill was well written, and was executed with high finesse by director David Nutter, the latter drawing out the best he could of even some of the more lackluster actors. In total, provided that episode 2 and 4 can follow suit with suitable bookends, and satisfying conclusions to long-awaited character arcs, at least one major part of Thrones will recieve a commendable conclusion.

…

Expand

As the engaging new opening credits make clear, the scope has been reduced. Things are more confined and intense, as sprawling and disparate

As the engaging new opening credits make clear, the scope has been reduced. Things are more confined and intense, as sprawling and disparate storylines have become conflated. So a lot of characters heretofore separated by continents are rubbing up against each other. The first episode cleverly sets this into a recapitulation of many of the very first episode's story beats. Satisfying and entertaining.

…

Expand

The final season of Game of Thrones has managed to wrap up a melodic song of Ice and Fire in a way that remains true to the source material,

The final season of Game of Thrones has managed to wrap up a melodic song of Ice and Fire in a way that remains true to the source material, and right now, the season premiere is solid as usual. This review will be updated weekly and will be a work in progress as the episodes pickup momentum before the end is near.

4/14/2019 - GOT: S8: Winterfell = 8/10 (Great starter, but it felt rushed with some missed opportunities.)

…

Expand

The show kicks off with one of the best episodes yet. But it is still way too slow for the last season which ends up being quite

The show kicks off with one of the best episodes yet. But it is still way too slow for the last season which ends up being quite underwhelming. I'm sure it will pick up steam but that can't happen soon enough.

…

Expand

With out Martins work to guide them the show writers are just lost, terrible dialog makes it clear that the show has lost its way, all of the

With out Martins work to guide them the show writers are just lost, terrible dialog makes it clear that the show has lost its way, all of the characterless are card board cuts of heroes and villains now, just what Martin set out to avoid in the books, the only hope is every one dies and it becomes a zombie show, may be Ash can save us.

…

Expand