Network:

A&E

Series Premiere Date:

Jan 8, 2019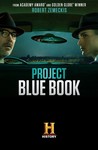 Summary:

College professor Dr. J. Allen Hynek (Aiden Gillen) is recruited by the US Air Force to be the Chief Scientific Advisor to a team that includes General James Harding (Neal McDonough), General Hugh Valentine (Michael Harney) and Captain Michael Quinn (Michael Malarkey) who will investigate

College professor Dr. J. Allen Hynek (Aiden Gillen) is recruited by the US Air Force to be the Chief Scientific Advisor to a team that includes General James Harding (Neal McDonough), General Hugh Valentine (Michael Harney) and Captain Michael Quinn (Michael Malarkey) who will investigate cases of UFO phenomena in this series based on the real examinations conducted by the United States Air Force from 1952-1969.

…

Expand

Genre(s):

Drama

,

Suspense

,

Science Fiction

,

Science
Season 1 premiere date:

Jan 8, 2019

Episode Length:

60
Even if it's less nuanced than The Americans and a bit cornier than The X-Files, Project Blue Book has a pulpy energy that carries it over its rougher patches. Whether it has legitimately grand truths to uncover remains to be seen, but for now, it recognizes that concrete answers aren't nearly as entertaining as mankind's enduring (and tantalizing) quest to comprehend the great unknown.

Too often "Project Blue Book's" approach makes "Dora the Explorer" look like a work of subtlety. Government coverup? Check. Conspiracy? Sure. Shadowy men wearing fedoras? Why not? The truth may be out there, but is it here? With a series like this, it's best to indulge your own inner Scully.

Even if the show has trouble finding its sea legs, it's a perfectly fun bit of distraction that could find an admirable groove if it proves willing to take a step back and make some calculated adjustments.

There's little surprise or suspense in these by-the-book anecdotes of weird phenomena in the skies and sinister cover-ups on the ground. [7-20 Jan 2019, p.11]

Project Blue Book feels like "X-Files" Lite, only with a whole lot of indistinguishable men--and all the women are stuck on the sideline.

In all, the six episodes of Project Blue Book did just enough to keep me moving forward in the hopes that everything will click. Even if the storytelling comes together at some point, I'm not sure what can be done to make Hynek and Quinn a better duo. As it stands, the show is interesting without ever being as fascinating or involving as it ought to be.

Potentially intriguing moments feel entirely manufactured, and the plots in between are paint-by-number plain with sometimes painfully bad dialogue.
Wow!, love this! So it's seems so far like X files meets the Americans... BUT REAL! Love that at the end of each episode, they break down the

Wow!, love this! So it's seems so far like X files meets the Americans... BUT REAL! Love that at the end of each episode, they break down the facts of what actually happened to piece together this well put together drama!

…

Expand

I got to see the first two episodes and I am really excited to see where they take the season. The casting is brilliant - you can't go wrong

I got to see the first two episodes and I am really excited to see where they take the season. The casting is brilliant - you can't go wrong with Aidan Gillen - and the script is believable and witty without being too much or silly. The cinematography is gorgeous as well and really on point. It seems like they budgeted everything well too because there is a nice balance of realistic props and set, which give it a genuine feel for the 50's without being too much, and also believable CGI. Very well done for a tv series. All the little extra plots and twists have me on the edge of my seat and eagerly awaiting next Tuesday!

…

Expand

to many commercials Picture to dark gives me a headache straining my eyes I like the show but struggling to see the picture and OmG the

to many commercials Picture to dark gives me a headache straining my eyes I like the show but struggling to see the picture and OmG the commercials! Do we really need that many?

…

Expand

So X-Files meets Mad Men? That's the vibe I got. Lots of good talent and it looks great, but it's a boring slog. I'm a sci-fi guy, but I'm

So X-Files meets Mad Men? That's the vibe I got. Lots of good talent and it looks great, but it's a boring slog. I'm a sci-fi guy, but I'm just not keen on the whole UFO thing. Loved X-files, but I liked the stand-alone, weird episodes over this overarching alien story, which the movies addressed. This just looks and feels like they're trying to do that alien conspiracy along with a period drama like Mad Men as I mentioned and failing on both. Great cast, looks awesome, not much depth.

…

Expand

Too little imagination, suspense, and talent to be compared to the X-Files and too much imagination to be taken at all seriously as an

Too little imagination, suspense, and talent to be compared to the X-Files and too much imagination to be taken at all seriously as an examination of Project Blue Book. Production values are decent enough.

…

Expand

After watching the first 4 episodes I am not sure what to expect... except that I now know that each episode begins with a nice premise and

After watching the first 4 episodes I am not sure what to expect... except that I now know that each episode begins with a nice premise and then leaves me disappointed by the time the episode ends. Could Laura Mennell's character be any more clueless? Can her new Russian Agent Friend get access to secure areas of an airbase that easily? There are so many groups to keep track of yet none of them seem to be doing anything other than just being in the background of each episode. The two generals are unrealistic, Neal McDonough's character gave them the project assignment and then gets furious when they do their work, which isn't much of any accomplishment... why? I gave it a score of 4 hoping it will improve as it gets more into the season and evolves.

…

Expand

This show is trash. If it were about fictional characters, it might be OK. The problem lies with this being broadcast on the History channel

This show is trash. If it were about fictional characters, it might be OK. The problem lies with this being broadcast on the History channel and being about actual people. Taking poetic license with historic figures, as all historic dramatizations do, is expected -- but this goes beyond poetic license and into the realm of malicious misinformation. Nothing like these events happened to Hynek. He disagreed with the government being so quick to dismiss UFO sightings, but only because their science was sloppy -- not because he encountered actual aliens when investigating.

This show takes the already out-of-control urban myth that Project Bluebook was a cover-up and cranks it up a few more notches, feeding the paranoid and misinformed more nonsense.

…

Expand