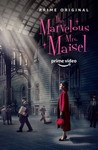 Summary:

As Midge climbs up the stand-up world, she faces more challenges of working the circuit and finding a way to tell her family about what she is really doing.

Genre(s):

Comedy
Season 2 premiere date:

Dec 5, 2018

Episode Length:

60
Please enter your birth date to watch this video:
You are not allowed to view this material at this time.
The Marvelous Mrs. Maisel
Perfectly delightful second season. [10 - 23 Dec 2018, p.8]

It is a truly delightful, exceptionally spirited romp that explores Midge's world of appearing classically conventional but actually being extraordinary--often by sheer force of will. She's not for everyone, but to like Midge is to love her. The same is true of the show.

One benefit of this season's leisurely pace is it allows us more time with the stellar ensemble. ... The look of Maisel is just so very that the beauty almost obscures the story; it was only after watching the episodes a second time that I was able to feel the characters' emotions seeping through the visuals.

It's a warm but smart confection in a TV universe overpopulated with series vying to be the darkest, most brooding show possible.

As was the case in season one, the biggest assets in The Marvelous Mrs. Maisel arsenal are Mrs. Maisel herself and Susie. Every time the show pivots away from them to focus on Abe and Rose or Joel, who's now living with his overbearing parents, it loses some of its fizz. Fortunately, those detours never last for too long.

Like her, it is funny, vivacious, hugely likable, and not infrequently error-prone; like her, it shrugs off any missteps and swings right back into the business of being delightful.

This time around, the story seems motivated less by the characters' forward propulsion than by hastily sketching how to get from one fabulous set piece to the next.
My absolute favorite show. I can't get enough! I love this era, Mad Men is in my top ten, so this just hits the spot! Cant wait for season 3!

I wonder how long can they hold this up. The Marvelous Mrs. Maisel packs a staggering amount of energy into every single episode, so much so

I wonder how long can they hold this up. The Marvelous Mrs. Maisel packs a staggering amount of energy into every single episode, so much so that binging through it can be exhausting (but in a good way), and I can't help but speculate as to how long they can keep this up for before the energy begins to wane, but before that day comes, I'm going to enjoy the ride.

Season 2 is an even bigger blast than season one. If you weren't already sold by season one, the second season probably won't make a convert out of you, but for those of us who fell in love from the start, it's wonderful to see what a marginal improvement this is.

…

Expand

This has always been a great show. The way it makes you feel like 1958-59 New York, Paris, and the Catskills are amazing. In S2 5 and 6, it

This has always been a great show. The way it makes you feel like 1958-59 New York, Paris, and the Catskills are amazing. In S2 5 and 6, it crossed into the realm of best ever. Alex Borstein is the Marvel in the show.

…

Expand

Season two of MMM is plagued with problems.

First and foremost is that the season is unfocused. It's almost like a second season was soSeason two of MMM is plagued with problems.

First and foremost is that the season is unfocused. It's almost like a second season was so unexpected that every random idea had to be turned into an episode.

Then there is the problem that most episodes have scenes that feel like an end-of-episode wrap-up, but in the middle. Sometimes more than once. The episode then staggers on like a zombie for awhile and just when something remotely interesting is about to happen with the plot, it does end.

I know that just sounds like 'cliff-hanger', but it comes across as poorly constructed scripts. It actually does make some sense because the over-arching story is so thin it has to be spread out.

Speaking of the walking dead. Zachary Levi joins the cast, acting the most stiff I've ever seen him. You'd think he walked in from another series or that no one gave him any acting direction. That is unless the director just told him to stand there in his scenes while other people talked at him. Two dimensional barely describes his role which includes a good deal of screen time for such a poorly developed character.

The drama in the dramedy is stretched thin and makes you want them to just get on with it. There are lots of pointless elements and plot-lines that should have been cut.

The comedy is the highlight of the season. The humor maintains a high level, especially Midge's stand-up acts. Unfortunately, the lighter moments are often too far apart making many episodes feel like a slog.

AND YET, some of the jokes occur at the expense of pulling you out of the show. Slang, references and banter is occasionally salted with anachronisms. Ideas that people of the period wouldn't know are used as fodder for jokes.

Finally, there is the last episode. So so terrible. Lots of new 'I've got something to tell you' secrets suddenly added for every single character just before ending and leaving everything unresolved. Again, you could call it a cliffhanger, but there is more unresolved in the last episode than actually occurs in the rest of the season.

Enjoyable, but a disappointing sophomore season.

…

Expand

This review contains spoilers

, click expand to view

. I really wanted to like this show. Really. I was a big fan of ASP when she did Gilmore Girls. But this is not that show. Not even close. If anything, it more closely resembles the Gilmore Girls reboot which went completely off the rails and essentially ruined Rory, one of the main protagonists.

Personally, I want to blame the streaming services for just throwing money at Amy and her husband, who, when constrained by a more classic study system, had to reign in their more elaborate, over-the-top impulses. Now, with Amazon footing the bill, and with Amy left to riff on (apparently) anything she wants, they've lost their way.

If there is a "marvelous" part of this show it is Brosnahan, who just exudes energy and likability. And that's a good thing, because her story, such as it is, has been lost in the morass of big "set pieces" that all that new found money allows for. Yes, the show looks great, but just about every show looks great these days. And seriously, I'm not there for the sets or the clothes -- I'm there for the story. So, yea, let's get back to that.

The basic premise is that Midge finds her way doing comedy in a man's world. If ASP was doing her elevator pitch to the folks at Prime, that's what it would have been; "The struggles and travails of a 1950's era Jewish girl who gets divorced and then tries to "make it" in the harsh world of stand up comedy." But, in season two, we've seemingly left that all behind. We see no struggle. We see no drive. What I see is an attractive, overindulged young woman who doesn't deserve to make it. She is happy to sit back, take a long vacation in the Catskills and "come what may." When you turn your back on the basic premise and just give us eye candy, you're going to feel ill pretty quickly. I think I'm there.

And speaking of her comedy, have ever seen Midge even nominally working at her craft? ASP (a writer, BTW) only shows us Midge getting up on stage and KILLING IT, as if the jokes arise from whole cloth. That's just not how it works. Great comedians WORK hard to get somewhere, but Midge doesn't seem to.

Compared to a director like Barry Levinson, whose Baltimore triptych (Diner, Avalon, Tin Men) faithfully captured mid-century Baltimore with clear honesty and wit, ASP is all broad nostalgia and horrible stereotypes. I can only imagine the crying and gnashing of teeth had such a broad portrayal of Jewish life been produced by a non-Jew.

What's to like in Mrs. Maisal. Well, a lot of the actors. I just wish I thought this was all going somewhere and that I wanted to go there with them. I don't.

…

Expand

This review contains spoilers

, click expand to view

.

I was looking forward to Mrs.Maisel Season 2. I am stunned that I could not even finish the first 2 episodes of this new Season. The storyline went absolutely Soap Opera. Mrs. Maisel seems to have forgotten that her husband was a cheating coward, which seemed to apply to both his marital life and his aspirations to be a professional comic. So now the amnesiac is beating herself up for following her natural talent. Mrs. M's mother flies off to Paris to start a new life being a well financed bohemian versus the uptight well financed socialite of some level back in NY. My spouse thought the mathematician husband was having a dream sequence in Episode 2 as he is suddenly very bohemian himself and seems to instantly understand French. Mrs. M lost us both. It seems to have entered Downton's Abbey territory as costume entertainment. Both projects were entertaining and interesting their first seasons but lost most everything but the costumes in quality thereafter. The solid acting can't make up for the storyline trajectory imploding on the launchpad. Disappointing.

…

Expand

This review contains spoilers

, click expand to view

. Well rounded? She is completely ditching her kids! She is like the worst mother EVER. So excuse me while I object to her ever being well rounded. I do enjoy the show in fleeting moments of humor here and there. Most of it is contrived and hack but it still gets a chuckle. But the bulk of this is daytime soap opera garbage at this point. People want a lot of stand up acts and some show blended in. The folks here confused this and made a soap opera with some standup for 5 minutes every other episode. The language in the 1950s/early 1960s was never this horrible all over the place. Maybe dockworkers and low-brow gruff types but it certainly wasn't standard issue. Not even in NYC. The first F-word in a movie was late 1960s. And there would be no need to have this level out of place language to break the mold in 1950. I don't even remember this much foul language working in NYC in the 1990s! It happened but it wasn't something you would use without risk in front of a boss and never at a religious Jewish dinner. I really don't think the lack of structure and neglect of these children were standard issue in the 1950s/1960s either. Maybe in the lower classes but middle and upper class? Doubtful.

This show isn't about for people who lived the 50/60s or know NYC first hand. This show plays with history like its a toy - rewrites whatever it needs to when its convenient and is basic opiates of the most basic people ever - the millennials and current 20 somethings - they are different (like everyone else) and this is the kind of garbage they seem to like. Too bad it has shards of hope - everyone likes comedy - but in the PC world of the NPCs I don't expect to see any real edgy George-Carlin level stuff.

One more thing - women looked so much prettier 'then' than now. The women of today dress like garbage and have man-ish disgusting hair. Its so nice to women looking like women on TV rather than tank gyrl.

This show could have been great. The second season is going in the wrong direction.

…

Expand
Published:

December 6, 2018

Find a complete list of nominations for the 76th Annual Golden Globe Awards in movies and television.

Find a list of nominees for the 70th Primetime Emmy Awards, with an analysis of snubs, surprises, and more.