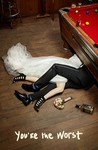 Summary:

The fifth and final season finds Gretchen (Aya Cash) and Jimmy (Chris Geere) planning to get married.

Genre(s):

Comedy
Season 5 premiere date:

Jan 9, 2019

Episode Length:

30
Please enter your birth date to watch this video:
You are not allowed to view this material at this time.
The tightrope-walking of the final season--one that feels both deeply satisfying and yet totally true to its characters--is a thing of masterful beauty. As a whole, the season is funny, smart, and--sorry Jimmy & Gretchen--moving.

Throughout, Season 5 celebrates every aspect of what's made the series a standout--especially its cast.

What ultimately makes this season so meaningful and smart is its insistence on confronting the underlying, more dramatic issues with which the series has always wrestled.

Not all of this season's ideas are as successful. ... That's not a fatal flaw in this kind of high-concept comedy, however, as long as the writing is imaginative and the performances snap. And 13 weeks from now, the landing is indeed stuck, in a finale that answers the questions and satisfies the emotions without short-selling the serious issues.

The show has always been a delicate balancing act of cynicism and sincerity, and occasional stumbles this late into the process are inevitable. Some experiments work, like the way this week's premiere feels like a wild detour until it becomes clear how much it has to say about Gretchen and Jimmy's love story. (It's the show's best, funniest episode in quite some time.) Others don't, like the latest spotlight on Lindsay's outsized extended family.
This review contains spoilers

, click expand to view

.

If you watch til the very end. And at that moment, you take a look at everything that lead up to that point, you'll realize the events that happened in the order that they did do indeed matter but they were actually only a glimpse of an effect on the futures of Gretchen, Jimmy, Lindsay, Edgar, or anyone else. You're the Worst finishes most beautifully out of any tv show i have ever watched.

…

Expand

this season premiere was **** awesome i can't wait to see the rest of the season!!

That was one hell of a season premiere episode! So glad it wasn't dwelling on her depression - which is a serious topic, but not totally fun

That was one hell of a season premiere episode! So glad it wasn't dwelling on her depression - which is a serious topic, but not totally fun to watch on a half-hour comedy.

…

Expand
Find a guide to the most notable shows debuting this summer, including promising newcomers like Preacher and The Night Of and the returns of Mr. Robot, You're the Worst, Orange Is the New Black, and more.

Published:

September 2, 2015

Get the latest details on your favorite TV shows returning this fall, including Fargo, Transparent, Empire, American Horror Story, The Leftovers, The Affair, The Returned, Arrow, and The Knick.

Published:

September 17, 2014

With the summer TV season winding down, it's time to re-evaluate the summer shows. Find out why critics now love shows like FX's You're the Worst and The Bridge, read what they thought of BoJack Horseman, The Leftovers and Halt and Catch Fire, and see if The Strain and Masters of Sex are heading downhill.